MDNA SUPPORTS THE CITY'S ONGOING EFFORTS to rid San Francisco of graffiti vandalism, educate the public about littering, illegal dumping, and other blight that spoils our urban landscape, and encourage property and business owners to keep their street frontages and sidewalks clean. MDNA works with various city departments to address these issues, and in the spirit of community, encourages everyone to "pitch in." A great way to do that is to make frequent use of the city's 311 Customer Service Center to report graffiti, trash, dumped items, etc. If you have a smartphone, download the free 311 app, for a really fast and easy way to report issues when you're out and about.
MDNA actively supports community volunteerism to green and beautify our neighborhood and help build a greater sense of community and shared responsibility.
PROJECTS
Mission High Gardens. Transformed, and for the past 13  years maintain, the once  neglected and blighted Dolores St. side of landmark Mission High School.
Guerrero St. Median Greening Project. Spearheaded the greening of the Guerrero St. median from 17th & 18th St. (April 2016), and have adopted the block (see full description with photos below).
Pollinator Boulevard (Dolores at Market): Enthusiastic supporter of this unique garden at the foot of Dolores St. (see  "Pollinator Blvd." invigorates gateway to Mission Dolores neighborhood).
Tree planting and health. We identified all empty tree basins and damaged trees within MDNA's boundaries, and are working with DPW's Dept of Urban Forestry to notify property owners to have them remediated (a slow process). We also encourage property owners with no street tree to help expand our neighborhood's urban canopy by planting one.
Dolores Park. We support ongoing efforts, including public education campaigns to encourage responsible park use, by Recreation & Park Dept., Dolores Park Works, and others to keep the new Dolores Park clean, green, and beautiful, and protect the huge investment made in renovating the park and children's playground.
DONATIONS FOR GREENING AND BEAUTIFICATION
We are indebted to the following donors for their generous financial support for plants and materials for Mission High Gardens and the Guerrero Median Project.
$1,000: Karen Zehring Charitable Giving Fund (September 2016)
$250 (April 2016): Tartine Bakery
$500 per year: Dolores Park Church (ongoing since 2012)
Mission High Gardens/Mission High School
In 2003, Gideon Kramer, MDNA Greening & Beautification Coordinator, set out to transform the neglected and blighted Dolores Street side of Mission High School, SF Landmark #255. The 400 feet of planter beds, stretching from 18th St. to the end of the faculty parking lot (416 Dolores), had been an eyesore for many years, but with no apparent interest by Mission High or the School District to do anything about it. The surrounding area bespoke neglect as well. Gideon started by building a secure toolshed to house all the tools, brought in a new water supply line, hose reel, and 200 feet of hose, and got to work clearing the weeds, bringing the hardpan soil back to life, and finally planting a large number of plants (this is an ornamental, not edibles garden) . Gideon continues to maintain and improve the gardens and surrounding area with the help of many caring neighbors. Efforts over the years to get Mission High students involved—very much an objective of this long-term neighborhood project—have been less than successful. But we remain hopeful that this will change in the future.
Guerrero St. Median Greening Project/17th to 18th St.
Several years ago, the narrow median of Guerrero St., long a lifeless band of concrete, gave way to efforts to calm traffic by adding plants and trees. Concrete removal work first began at 30th St. and San Jose Avenue (just south of Cesar Chavez), and slowly made its way up towards Market St. Although the greening campaign has been a technical success, the sad fact is that today most of the median blocks are weed-ridden, with many dead or missing plants and compromised trees. The problem: lack of proper maintenance. Why? Because the city can't do it alone. DPW's Bureau of Urban Forestry, the city agency responsible for flora on the city's medians, actively solicits community participation, not only with the initial planting, but more importantly, with future upkeep, by adopting a block. MDNA stepped up to the plate by adopting the 17th to 18th St. segment. Take a look at this one block and compare it to the others, and note what a difference responsible maintenance makes.
Gideon Kramer, our Greening & Beautification Coordinator, is leading this effort, and hopes to motivate residents and businesses to adopt other blocks that sorely need TLC. DPW makes it easy and safe for neighbors to come out on a Saturday morning and make things happen, by closing off the inner lanes to traffic, providing all the tools and materials needed, and carting away the debris. For our initial planting on the 17th to 18th St. block (April 2, 2016), Tartine Bakery donated $250 and both Tartine and Bi-Rite Market plied the troops with generous supplies of pastries and fresh fruit and juices, and helped make the event a realy fun and productive one. Since the initial planting, we've had several maintenance events to ensure that the median stays in great shape, especially during the first two  years when the trees and plants are most vulnerable. Please let us know if you'd like to get involved, and especially, if you're interested in adopting a block.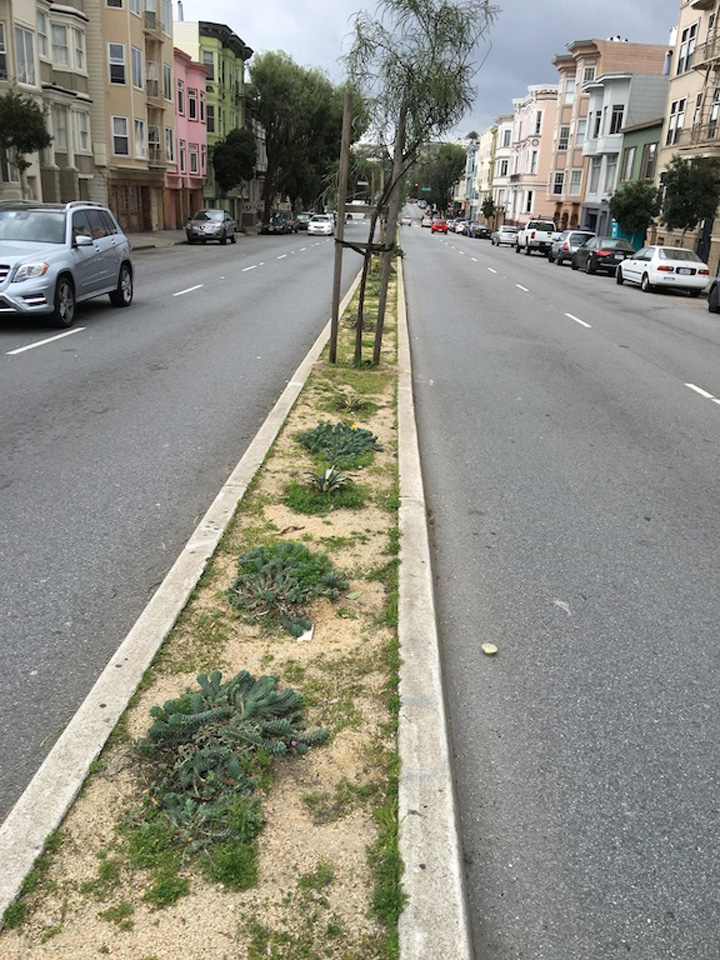 This is how the Guerrero median between 17th and 18th looked in March 2016.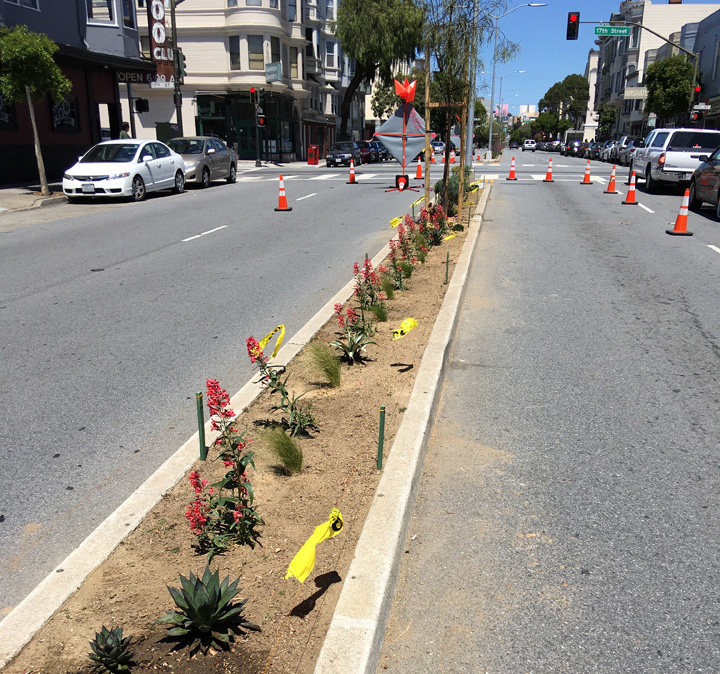 . . . and after the initial planting on April 2, 2016. Over 120 plants were installed, including euphorbia, penstamon, armeria, calandrinia, and agave.